The Utilities are a collection of little tools created solve specific problems.
A collection of small applications that don't quite have a place in the wiki just yet.
Firth, or 1th, is a postfix calculator for fractions.
Firth is a stack based rpn calculator, created to be an improved version of Unix's dc. It supports basic arithmetic and is the perfect companion utility to Fractran.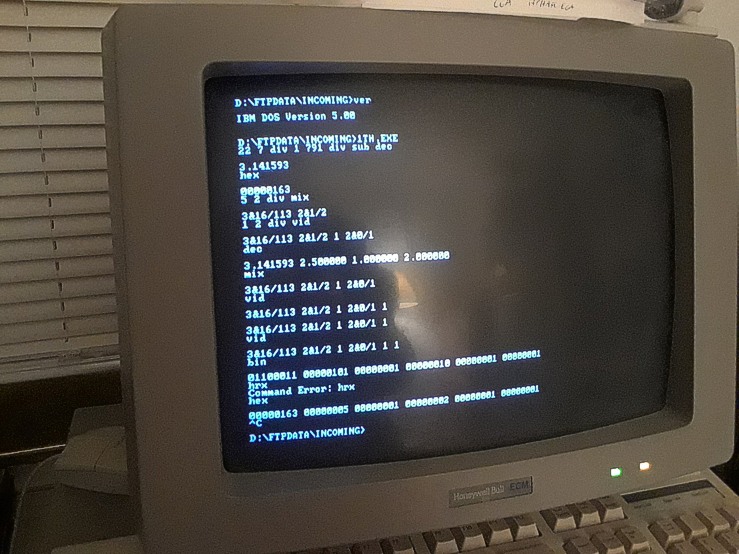 Examples
The following example, will print the mixed fraction 3&1/6.
clr 11 4 div 5 12 div add mix
To print the decimal value of a fraction.
clr 22 7 div 1 791 div sub dec
To get the floor() of a fraction.
clr 17 4 div dup 1 mod sub .
1th.c
Shim is a utility that converts bytes into midi messages.
Shim is designed to recieve the 3 bytes of midi(channel, note, velocity) and pass it to a selected midi device. It is powered by Portmidi.
This tiny script the ideal companion application to Varvara for sending midi from Orca.
Usage
uxnemu orca.rom | shim
Stopwatch is a terminal utility countdown.
Why the heck did I even have to write this in the first place.
cc sw.c -std=c89 -Os -DNDEBUG -g0 -s -Wall -o sw
#include <stdio.h>
#include <unistd.h>

int
main()
{
	int h = -1, m = -1, s = -1, t = 0;
	printf("Timeout(HH:MM:SS) | ");
	if(!scanf("%d:%d:%d", &h, &m, &s)) {
		printf("Invalid timestamp\n");
		return 0;
	}
	if(m == -1 && s == -1) {
		s = h;
		h = 0;
		m = 0;
	} else if(s == -1) {
		s = m;
		m = h;
		h = 0;
	}
	t = h * 3600 + m * 60 + s;
	putchar('\n');
	do {
		if(t > 3600)
			printf("\033[A%02d:%02d:%02d\n",
				t / 3600,
				(t / 60) % 60,
				t % 60);
		else if(t > 60)
			printf("\033[A%02d:%02d\n",
				(t / 60) % 60,
				t % 60);
		else
			printf("\033[A%02d\n",
				t);
		sleep(1);
		t--;
	} while(t >= 0);
	printf("Ended.\n");
	return 0;
}